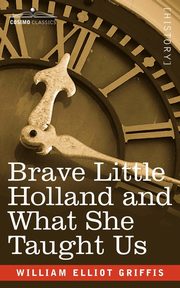 Brave Little Holland and What She Taught Us
Wersja papierowa
ISBN:

978-16-02-06128-6


Format:

12.7x20.3cm


Liczba stron:

264


Wydanie:

2007 r.


Język: angielski

Dostępność:

dostępny




Written as a history lesson on the impact of the Dutch on the culture and pedigree of the United Kingdom and America, Brave Little Holland offers more than just the "names and dates" of a typical history exercise. This is a must-read for anyone lured by the tale of how the Dutch crusaders wended their way across the British Isles and into America, but Griffis intended his work to satisfy a wider readership.

Employing a personal, lucid, and engaging style so as to be widely accessible, this book is essential for those who are interested in America's societal development, and anyone drawn to tales of adventure, struggle, and the pioneering spirit.


American author, educator, and theologian WILLIAM ELLIOT GRIFFIS (1843-1912) was born in Philadelphia. He is also the author of Welsh Fairy Tales, The Firefly's Lovers, The Unmannerly Tiger, and Bonnie Scotland.