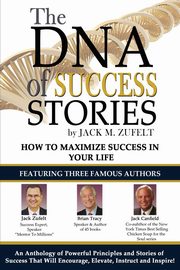 The DNA of Success Stories
Wersja papierowa
Wydawnictwo: Motivational Press
ISBN:

978-16-286-5016-7


Format:

15.2x22.9cm


Liczba stron:

216


Wydanie:

2013 r.


Język: angielski

Dostępność:

dostępny




10,000 copies sold before it went to press! Published in the USA and India!

World famous Brian Tracy Jack Canfield agreed to provide chapters for this book as soon as they understood what Jack Zufelt was going to do with it. Jack got 18 other coauthors from around the world to share their insights, wisdom, knowledge and experience to his book to help people learn to achieve at maximum levels.

The stories they share provide a source of encouragement, faith and hope in the face of the difficulties and trials life places before us.

They prove that that success and happiness are possible no matter what your circumstances are or have been.

If you want to be inspired and have simple wisdom placed before you then you should read this book right away. If you want to know how to rise above the average these stories and messages will show you how to make that happen.

This is a unique anthology of powerful principles and stories of success that encourage, elevate, instruct and inspire. It is a MUST READ!